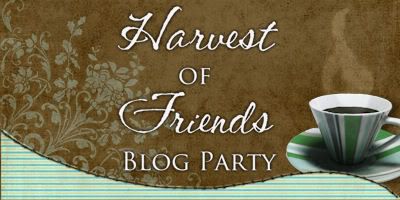 Today I'm joining Lynette over at Dancing Barefoot for her Harvest of Friends Blog Party. I'd love to meet some new peeps, so I'm in! If you'd like to participate, just click on the banner above for all the info. You've got all week, so join us if you've got a blog!

Now, for some randomness of me.

1. What's your favorite thing to snack on while you're blogging? Chocolate. Oh, chocolate. I'm seriously trying to work on this - limit myself to water - or just a few chocolate chips. But chocolate and feelings. I really like to have them together. I sort through a lot of feelings when I'm blogging - chocolate just belongs right in the mix! (Anyone else feel this way, or am I crazy?)
2. What is one thing you wouldn't want to live without? Jesus. I know, I know, it's the churchy answer - and this isn't church! But hear me out here. A year ago, I would have said my family. And I STILL wouldn't want to live without them. But my family has been through the fire this past year - over and over and over again, it seems. I'm not sure I would still be surviving, much less thriving right now, if it weren't for the loving, comforting presence of Jesus in me. So I don't want to live without my family, but if that were God's will for my life, I could make it as long as I still have my Lord. It wouldn't be easy, but I would get through. I COULDN'T live without Jesus.


3. Beach, Mountains, or Farm? Where would you live if you had a choice? No question here - absolutely, positively, unequivicably the beach! I could walk for hours and hours and hours along the shore, picking up perfect little sand dollars and such. The sounds, the smell, the water, the sand. One of God's most wondrous creations!
4. What's your least favorite chore/household duty? Duh, toilets. I'm EXTREMELY thankful for them, but ew.


5. Who do people say you remind them of? I haven't heard anything since Clueless was out and Brittany Murphy was still brunette and innocent. Please don't tell me I look like her now. She's a little - harsh to me.

6. Prefer parties and socializing or staying at home with the fam? It seems that the older I get, the more of a homebody I become. I love people - but I love the peace of my home, too. I've also recently discovered that I'm not as good at meeting new people in person as I used to be. My husband is the life of the party. I think I've spent the last 11 years happily letting him take the lead in social situations. Now I get pretty nervous in a new place if he's not right by my side. I know, it's a little sad.
7. What's your all time favorite movie? "We go together, like rama-lama-lama-ka-dinky-da-dinky-donk!" Or how 'bout "You're the one that I want, you're the one I want, I want, you-hoo-hoo! Honey!!"
What's not to love about that?
8. Do you sleep in your make up or remove it like a good girl every night? Yeah, this would be something else I'm working on. I'm not a very good girl most of the time.
9. Do you have a hidden talent or a deep desire to learn something that you've never had a chance to learn? What is it? I'm not really sure I could learn how to do this, but I wish I had a beautiful, angelic singing voice. I'd love to be able to praise the Lord without cringing the whole time. Hopefully, it really is just beautiful praise to Him - maybe the ickiness gets lost in translation on its way up to Him. :)
10. What's one strange thing you're really good at? Well, duh! Obviously - I'm very good at overusing dashes when I write. Good thing I'm not a professional - my editors would cringe every time they saw me coming! - -
11. What first attracted you to your spouse? Well, it kinda took a while. (I love you, honey!) We had become fantastic friends - I soon began to get the impression he was interested in me, and I was so concerned about leading him on. Cause, well, I wasn't very interested in him that way. You know, he was such a good friend, like a brother! Sure enough, he called one night and asked me out. I was prepared. I had practiced. The speech was ready. What came out of my mouth? "Sure!!" So, we met some of his friends at the movies, and then to dinner. I was still steadfast that he wasn't my type. On the way home, (a 45 minute drive) I started to get sleepy. He noticed and began making up a fairy tale about a short little princess (me!) and how wonderful she was, and how the poor little peasant didn't deserve her.
Yeah, I was a goner. We were married 5 months later - July 25, 1998. If you'd like to see more about how far I've come from those days of non-attraction, go here.
Oh, and his boo-tay is quite cute, too.
12. What is something you love to smell? Gasoline. And cheesecake. Just not together.
13. Tell something about you that you know irritates people. I snap at my kitties when they're doing something wrong. Not snap, like, mental snap. Snap, like snap my fingers, snap. I had no clue that I did this until our 10th wedding anniversary. We watched our wedding video and tacked on the end was some footage of us in our first apartment - with our first kitties. I "snap" at one of them in the video and Ivan says, "You still do that!" How can you do something consistently for 10 years and never realize you do it?
14. When you have extra money (HA!) what's the first thing you think to do with it? I usually want to head out and find something pretty for my house. Like furniture. But we never have that much extra money, so I forego getting anything at all.
15. Are you a silent laugher or a loud laugher? What makes you laugh the hardest? Oh, I'm definitely a loud laugher. Sometimes an embarrassingly loud laugher. Don't tell anyone, but sometimes I'm even a snorting laugher. I try not to, but - well. You know. Other people laughing usually makes me laugh the hardest. It makes me feel not quite so bad about my own laugh. :)






16. Where is your favorite place to shop? Ross Dress for Less, me thinks. Or maybe CVS. Ours is really nice here.
17. What's one thing you'd do more often if you had more time? Definitely blog. I've lost so many posts in my mind, because I didn't stop to write them when I thought about them. Last week, I wrote 4 or 5 posts on the nights my hubby worked late and scheduled them for later in the week. This might end up working for me - time will tell!
18. Are you a big spender or frugal? Definitely frugal - but I think my frugality covers up what a big spender I could be. It's a game and a challenge to see how much I can save (or not spend at all) - this is what makes shopping fun for me. However, if it weren't NECESSARY for me to be frugal, I might have fun shopping without the game of saving. I might have too much fun. So I think frugally, and make that my mission as I head to the store.
19. Who is your favorite character of all time (from a movie or book)? (Can't be real) This is a toss-up between Danny Zuko and most of the characters in The Princess Bride. Another classic!
20. Would you want to be famous? Definitely not. I've seen fame ruin too many people. Besides, if I were famous it would be for something like winning 10,000 buckaroos on America's Funniest Home Videos for my snorting laugh. :)
So, Queen Diva in a nutshell. There you have it. Thanks for stopping by - (I'm glad to have met you!)

By the way, I'm having my first giveaway here. Hop on over and leave me a comment to be entered. (You could even subscribe or follow me if you want to!) Happy Day!